Happy Monday!
I hope you're reading this at a cubicle – that makes my Monday morning pajama-party all the sweeter! Did you take advantage of the time change? I didn't but, I'm pretty sure this is the temporal arrangement that my body prefers…
Have some pictures!
The kids have been great the last few days, since they have a bucket of candy, though it wasn't all super easy the whole time for them. Aiden resisted dressing up –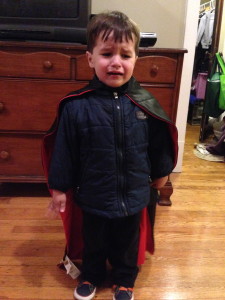 but once he realized that people were giving him candy, he was unstoppable.
Addi was Fanky Stein from Monster High: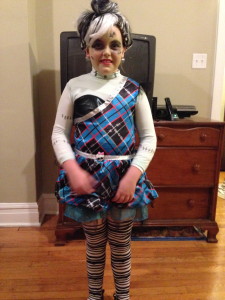 The best part was when she popped the bolts off of her neck at the end of the night. Apparently, 3M makes surgical grade neck adhesives. Adorable.
Abby was a fuzzy pink monster!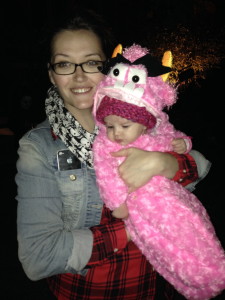 She slept almost the entire time we were out – made me only kinda regret that her costume was like thirty bucks… A sleeping baby is a happy baby, though, and that thing didn't breathe, so she was super warm out in the rain and everyone had lots of fun.
I like to pretend that Nikki went as a zombie apocalypse survivor the day before the outbreak. I went as a clone of myself (how meta).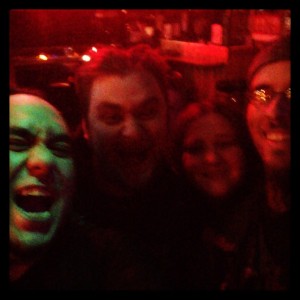 Now Saturday night I was at YOTI in Mt Prospect with Something Beautiful. It was our first show with the backing tracks instead of a drummer in a few years, so as far as I'm concerned, it took a minute to readjust to the level of precision I had to play with, but we did really well, I think.
Big thanks for Skull Fogger for coming out Saturday night, and to Scars of Armageddon for supplying amps, and Rock in Chicago for promoting and coming to hang out!