Lately, a couple times per week I have a morning exactly like this one: Wake up at the crack, Nikki's asleep on the couch with Abby, I get Addison ready to roll, and drop her at school. Aiden isn't up yet. I got probably 45 minutes before things go off. So I grab a guitar and start writing.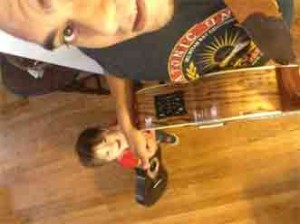 Fitting in some creative time in between tasks is a great way, I find, to keep my wheels greased. Not every Idea is good, not every song gets completed, but that's how we get a gem – put out a buncha crap until there's something worth keeping, focus on it, then work it to completion.
In the last couple weeks, I've probably run through about ten new song ideas. So far I think that 3 of them will become one new Something Beautiful song (all heavy ideas in related keys that could work well together) and 2 of them will be new Dale Tippett, Jr songs that I'll need to demo out and teach to Tin Lolita – after I can get a good lyric set together at least.
All this while working on some studio tracks for Angel Anatomy. And directing for 5 active accounts, AND keeping 3 kids from starving/freezing to death. I've been asked how I do it, and really the most important thing is having a partner like Nikki, who can trade parent/creative shifts, depending on the situation. She knows how a project can take over a night, and is always accommodating to my work – but I'm not always accepting of it.
There's a 'feel-bad' that I get when she's willing to take all the kids so I can woodshed on a track or write for awhile. I can intellectualize it, but I tend to make myself rush, and sometimes even push out sub-par work just so I can get back to helping. I'm getting it under control, but I personally need to remind myself that she does that so I can succeed, not so I can just get by.
That's enough for now – Imma go be a daddy for a while. Stay out of trouble you guys.