Of all the versions of Soundwave, I really dig how they did him in Prime. The design took a while for me to get into, but his characterization was really super strong. He never speaks, only sends Laserbeak out to gather intel, and silently stares, a quiet indictment, like he's saying "You know what you did…"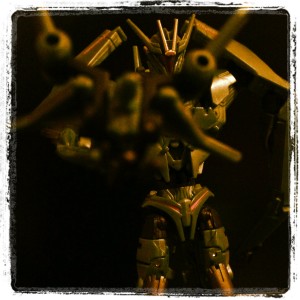 I can't think of any times they got him into any real action sequences other than in season 3 – but it was awesome. That's really when I really realized how into the show I had gotten. A series with paper thin characters will always threaten to bore me to death, but they did a great job fleshing out every character in Transformers Prime. I'm such a nerd.
The figure himself was picked up at Quake Collectibles for just a couple bucks. I didn't even know it was Soundwave until I started watching Prime. I had a big office and plenty of room for toys, so I wasn't too picky about what I was buying, as long as it was from the franchises I care about. I'm trying to get my boxes unpacked, so I can take a look through my G1 toys, but that ain't happening this week. Catch you guys later.