So this week was a bit of a wash – HOWEVER, I DID book a slot at the NAC tent for BBQ Fest with Tin Lolita – so that's a good thing, right? ALSO, I'm waiting on a call back from Ribfest – I booked a wedding ceremony for that weekend already, so we'll see how that goes. exciting!
In the meantime, we had the 11th annual Meatmorial Day Meatstravaganza! Big fun, tons of food, friends and drinkin! Best moment: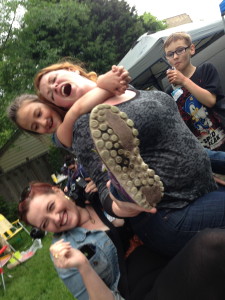 Otherwise, I been working on getting myself back in gear for hitting the gym on the regular and doing LOTS of these:

So stay tuned – I'll have em videos up in no time. Getting the graphical elements together and picking up my new bottle of energy supplements to get my gumption up! See you soon, you guys!