I like lots of things, but love a select few. Interacting with things I care about gives me energy to be passionate about things. Reminds me that life is fun. This is Predaking: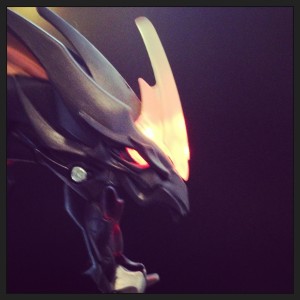 I had been seeing the Transformers Prime figures, and the Beast Hunter line, wondering what the deal was with that. I hadn't gone all the way through Prime yet, so I didn't get it. Most annoying to me was the way it seemed like they were just redressing the old characters in some organic looking armor to make a buck – which in some cases they do – but anyway…
I DID finally finish Prime, and I'm totally in love with it – not going to need all the toys, just named characters as they were animated. I'm not too into the alternate versions unless they remind me of something else.
As far as the show itself went, they developed the characters in new ways that stayed mostly faithful to the G1 show, and even made room for the Maximal/Predacon conflict from Beast Wars, I think. That's really the thing that does the show for me – it reminds me of Beast Wars. Once I'm done unpacking my toys, I'll talk about those figures. But if you've got a fondness for season 1 of the G1 show – give Prime a chance – then let's get a bucket of wings and a copy of the new movie, Predacons Rising.

I'm too stoked.