As I write, it's about 9am here, and I couldn't be gladder to be here on the couch. Whole last week was an absolute bloodbath – I think that's the right term for it. 9 straight days of performances, so busy that I couldn't even stop in to say hi to you guys!
Needless to say, that by Friday night, I was in bed with a fever, couldn't move, and was absolutely miserable all around. That was terrifying, since I still had 6 performances between Saturday and Sunday, the first of which being the Six Corners BBQ fest show.
After MUCH negotiating with my protesting skin, we loaded up to the Northwest Arts Connection tent, and Auggie promptly broke his kick drum pedal, which explains the beginning of this video:
A couple times during the set, my vision started going fuzzy, and it was a bit of a struggle, but we had a TON of people out dancing, and overall it was a great show, by all accounts. And it was a welcome change of pace from the twenty-some-odd hours I spent during the week rocking out with 200-ish screaming kids with this band: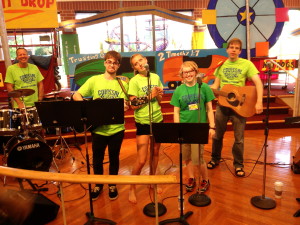 All told, I crammed 16ish performances into 9 days. I'm not all recovered yet, but my chores ain't gonna do themselves, and my work ethic is riding high so I gotta take advantage of that while I have the chance.
I've got tons more to say about all this, especially since it was my first Father's Day the next day, and Nikki really hit a homer! I'm finna do it justice, so for now, why don't you stop by the facebook page and click the free downloads button to grab a couple free songs?