TONS of songs are in the key of G. It's pretty much my favorite, if for no other reason than I like the feel of a G chord under my hand. G flat, though, is just annoying. It's so close to being cool, but nobody's perfect. Here are the only voicings I use that are near first position:
–x—–x—-x
–x—–2—-2
–3—–3—-3
–4—–4—-4
–4—–4—-4
–2—–2—-x
All are super similar, but depending on what my hand is doing before, after, or during the time I'm hanging out with Gb, I'll grab a different one.
The first one is great as a I chord. It's stable, theres no motion implied, it just sits there being Gb. Fat on the lower part of your first finger should mute the high strings, E and B. It looks and functions exactly like a Gb barre chord would work traditionally, but you don't cramp, and a missed grab won't cause unwanted noise in the high register.
The second one adds the fifth (Db) to the high register. I grab the hell out of this one. Sometimes a little more high end goes a long way. The way to get this without barring across 5 strings (because otherwise you might as well be playing a big barre chord like a scrub) is to play the Db on the B string with your first finger. Then grab the G and D strings with your 2nd and 4th fingers, respectively. That forces your ring finger above, pretty much right where it needs to be in the fourth fret of the A string. The low tonic (Gb) is grabbable by your thumb over the top of the neck. Once you get to feeling this out, you're golden. First finger mutes the high E string again.
The third fingering is identical to the second, except your thumb is muting the low  E string instead of playing it. This one is useful when you are in Db and you want the IV chord sound like it's moving upward in sound, or you want a sus4 type sound when compared to your Db chord. You don't get that effect when the lowest note in your voicing is a fifth below the lowest note on your last chord.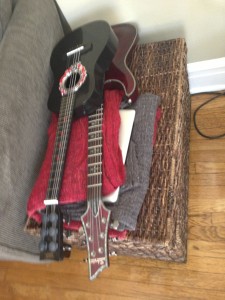 Looking at a chord like this conceptually, I was thinking about how often I need this information. Honestly, I learned a lot of what I know so I can put songs in easier guitar keys. When I see a song in Gb, I take an inventory of what other instrumentalists I have, and if I can, I tell everybody to play it in G. If the melody gets too high, I push down to F.
But that's the thing. Sometimes I'll be backing up a vocalist, and they straight up need the thing in Gb. It's not their problem, it's just I don't have a ton of fun in Gb. It's their jam, and I want to do my job well. So I play in uncomfortable keys sometimes. So if you want to do this kind of thing for real, for a living – then get these grips down and learn your craft. Catch ya.