Category:

Voicings

Voicings and fingerings for chords used in various styles of music for songwriting, ear training and clarification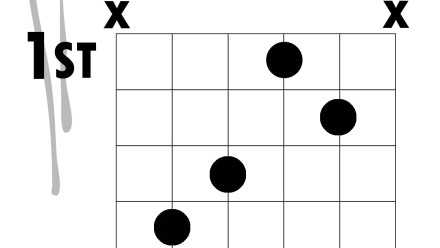 If I needed to be glib about it, I'd tell you to read what I had to say about Eb and Bb and shuffle it around a bit. But I think today I'll be helpful. You're welcome.
Db is one of those chords I don't remember having to learn. Probably happened because of a church song. I probably played it like this:
-x-
-x-
-6-
-6-
-4-
-x-
And I probably played it like that because power chords are pro. Just sayin'.
Anyhoo, if you need a short answer, I would say do it like this: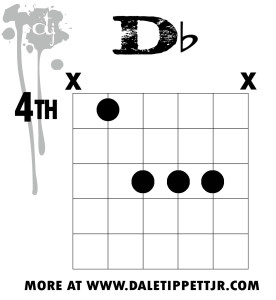 I grab this shape using my first finger on the A string for the root, then my pinky barres the B, G and D strings. The fat muscle on my pinky gently mutes the high E string, excusing me from dealing with any unwanted noise.
This way is also good:
-x-
-6-
-x-
-6-
-4-
-x-
Learn up on it by fingering an A7 with your 3rd and 4th fingers, then slide that up and use your 1st finger to grab the Db on the A string. This one can be nice, especially if this isn't your only flat chord. This version of the voicing strips it down, feels like an A7 chord, and can be pretty slick when slid in or out of.
On a side note, before I started writing this series, I totally went and tried to grab one of these for purely intellectual reasons:
-4-
-6-
-6-
-6-
-4-
-x-
SCREW THIS.
I worked out a couple different finger configurations and was still just left thinking to myself, "why would anyone do this?" The answer of course is "because nobody's telling them otherwise". What a pain and a waste of time. What this 'is' is an A-shaped barre chord (because it looks like an A cowboy chord). They're just not useful until you start subtracting notes from them to make them playable in a song. So hop up, reduce it, then rock out.
You can do another one by using a C shape:
-x-
-2-
-1-
-3-
-4-
-x-
Learn this one (like Eb) by playing a C chord using your 2nd, 3rd and 4th fingers. Once you got that good and comfy, slide up a half-step and drop your 1st finger on the G string. Your incredibly powerful 1st finger's chubby bottom-side will mute the high E string, and you might throw your thumb over the top to shut the low E string down. Otherwise, you might do this:
-x-
-2-
-1-
-3-
-4-
-1-(thumb)
And you got a nice Db/F sound to give a little depth.
Enjoy these, and we'll get out of major chords, and start talking about minor chords, 7th chords, and all that jazz. Sometimes literally…