Category:

Guitar Lessons

Lessons on various guitar-related concepts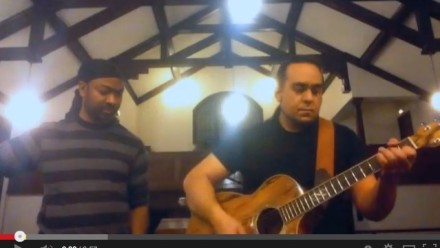 It occurs to me that somebody might want to play the song at church or something over this weekend or on Monday or Tuesday, so here are the chords I use to play We Shall Overcome. In the video I did with Eric McGhee, I used an F chord to suspend the verse endings, and maybe I made a mistake here and there, but this will get you through the whole tune, however many verses you want to sing.
C               F       C     C            F     C
We shall overcome, we shall overcome
C            Am  E7  Am        D7 G
We shall ov – er – come   someday
Am G/B  C       F  C            F       C Fm
Oh   –     deep in my heart, I do believe
C              F       C      G     C
We shall overcome someday
Reading a text chart like this can get annoying, I think – but the only places I would expect any problems would be the Am E7 Am change on line 2, and the Am G/B change on line 3.
Of course you can watch the video for reference, but I'll talk you through it real quick.
On line 2, think of the Am E7 Am change just like you sing the "o – ver – come" in the line. Am on beat 3, E7 on beat 4, and Am for beats 1 and 2 of the next measure.
For the "Oh" on line 3, the Am sits on beat 3 with the G/B on 4 so you get the sense of walking up to the C chord on the word "deep".
Hope this comes in handy for you!