Category:

Gigs and Gigging

Thoughts on gigs I've been doing or have coming up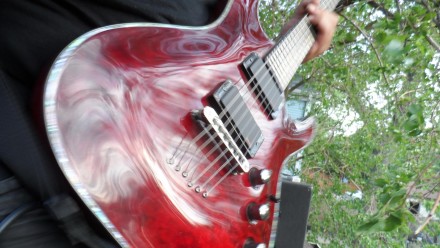 So about once a year, I get asked about what kind of strings I use. It's usually because somebody wants to get me a Christmas/birthday present, doesn't know about my toy collection, and also is unaware that I love getting a bunch white socks – as boring as possible, so I don't have to spend much time matching them.
Anyway, this usually gives me pause, because I have a really hard time remembering what I use on my acoustic guitars – the ones I use the most, but restring the least. So I figured I would write about it today so next winter I can just google "what kind of strings does Dale Tippett Jr use?" and get a faster answer.
Here's the rundown:
On my six-string electric guitars (my primary is a fixed-bridge Schecter Hellraiser), I use ten-gauge D'addario strings. Playing on a six, I lean on clean or slightly pushed tones. Ten-gauge strings don't go as sharp when I hit em hard, as is my custom. I use a lot of my acoustic technique on clean/pushed electric guitar music, which means a lot of percussive picking and hard pick strokes. On lighter strings, that causes the notes to go sharp, and that's a boo all day long.
On my seven string Schecter Hellraiser, I use nine-gauge D'addarios. Nines can bend wildly, which allows for a couple different things. There's a lot of give, so bending is super easy, and a little vibrato goes a longer way. The action on my seven-string Hellraiser is set REALLY low, so with the strings light and the action low, I can play for hours without much fatigue. On top of all that, Something Beautiful tunes a half-step low (Bb,Eb,Ab,Db,Gb,Bb,Eb), so the strings are even looser than they would be in standard. All these factors make shredding about a million times easier. My technique on that guitar is much more gentle – I let the gain from the amplifier do most of the work, and playing more percussive parts with a lot of incidental string sounds is generally undesirable in a high gain situation.
I always need this video:

I have two Schecter seven-string Avengers, that I write on, but rarely play live anymore. They're fixed bridge (the seven string Hellraiser has a Floyd Rose on it) so I treat them with a lot less care, and a ton more aggression. Since I hit them so hard, I use ten-gauge strings on them. That keeps them from going sharp, and I can just go to town. It's a bit of a challenge to play very fast on these two, but sometimes that's enough to give me a new idea for a solo.
My main acoustic guitar is a zebrawood (what?) Ibanez that my gorgeous Nerdy Girl got me for Valentine's Day. I was restringing it this morning and that's what prompted this post. I put a set of EXP11's on it. That's D'addario 80/20 bronze, twelve-gauge. what's that all mean? I don't really know, but they sound good as hell. Most new strings do, but more on that later. That guitar has the usual Ibanez fast-action, pretty low, so I'm ridiculously happy with it. The electronics amplify beautifully, so I don't get in awkward micing situations and it's plenty clear for small rooms. Real balanced output, too, so nothing weird comes from my percussive right-hand technique. So good, and also real good for soloing.
A few years ago, Auggie from 5 Minus X, Hubbard Union and Tin Lolita got me a Fender Twelve-String Acoustic. I tend to go lighter with that one, eleven-gauge – to prevent fatigue on account of the big grip of strings. Technique is more gentle on a twelve, with focus on arpeggios. I even prefer a lighter pick on that. Not sure why though.
So why all D'addario? Durability and cost are really the main driving factors for me. I play more than 200 gigs every year, and that wears my strings down quite a bit. If you're not gigging very much, you should be changing your strings 3 or so times a year, but with that many shows, my strings go dead faster, and that makes playing a lot less fun. Breakage happens, but mostly on my six-string electric, because I play it so hard. Overall, I have fourteen guitars (I think) and getting super fancy coated strings can get pretty expensive. D'addario's last long enough and don't break so often that it complicates gigs.