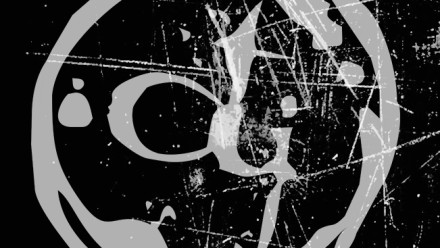 Last night was rad – got to meet one of my favorite authors and podcasters, Scott Sigler. He came to the Barnes and Noble downtown to promote his new novel Pandemic. After reading from the front end of it, the FDO spit some truth at the Junkies  about everything from creativity and how publishing works, sports and Dungeons & Dragons.  After he joined the band, he signed my book. Ominously.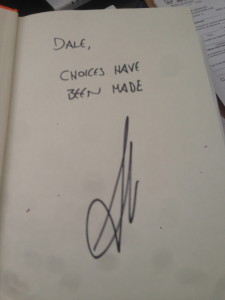 Can't tell if it's a thinly veiled threat, or a promise to kill me in an upcoming story.
If you don't know his work, you SHOULD. He writes horror and hard scifi, has a wicked sense of humor and is a total creative badass in general . Also, he agreed to play drums for Something Beautiful – even though he's actually a bassist. Would have been weird having two left-handed bassists in the band.
After the book signing and Q&A, we all headed to The Bar Below where everybody except Scott had delicious adult beverages. Scott drinks… I can't even type it.
After having been a junkie for a whole mess-o-years, it was too cool to spend some time picking his brain in between all the other questions that were getting slung at him from every direction. He's real interactive with his fans and is well practiced at not dropping spoilers when he talks about his work.
Only bad part of the night? The part where the conversation turned to hockey. Here's a picture of J, Nikki and Me being bored almost into a collective coma.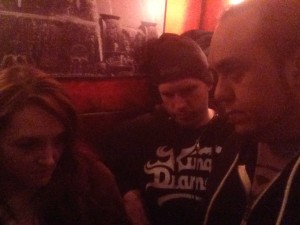 I could probably write a TON more, but I got some stuff to do. Here's the front half of his bio and some legit links:
New York Times best-selling novelist Scott Sigler is the author of ANCESTOR, INFECTED and CONTAGIOUS, hardcover thrillers from Crown Publishing, and the co-founder of Dark Øverlord Media, which publishes his Galactic Football League series (THE ROOKIE, THE STARTER and THE ALL-PRO).
Web: scottsigler.com
Twitter: @scottsigler
Facebook: facebook.com/scottsigler