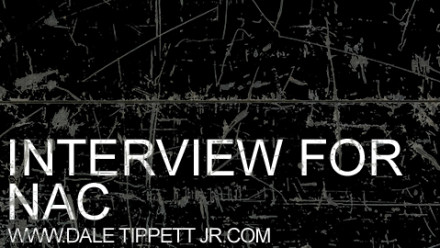 I was the featured artist in NAC's newsletter this month – here's some of it, click the link at the bottom to read it in full, and subscribe there to get their monthly news about arts events that are happening!
Exclusive interview with Dale Tippett Jr.
"It's shaping up to be an extremely exciting year," Dale says when asked about his plans for his solo project, Dale Tippett Jr featuring Tin Lolita. "We're on track to have a new song released every month this year, an EP for the summer and a full-length release in the fall." Dale's music is best described as "sultry blues rock, peppered with a little jazz influence." Dale and Tin Lolita (Ezra Lange, bass, and Auggie Jaramillo, drums,) will be making appearances at several festivals and neighborhood events in Chicago this year.
Putting out a new song every month seems like it would be challenging.  How has the experience been so far?
Honestly, not that bad. I laid out a large-scale plan, but there's still room for improvising. In January, for example, I released a video and free mp3 download of "We Shall Overcome" with my friend Eric McGhee. I knew the plan, and that the song would happen – but I didn't know exactly what the execution would look like until the day of the session. Eric didn't even know exactly what was going on until I was setting up the camera! The music and video for the February release, Lonely for You, had been done for a couple years already, so I didn't sweat much over that.
So, can you give us a sneak peek of what you're working on for March?
I just recorded a pop-punk version of 'Oh Danny Boy' with Rich Aszling from 5 minus X. It was a fun session.  It should be out before St Patrick's Day.
Click HERE for the full interview
Like Northwest Arts Connection on Facebook