Seriously.
Bb is one of those other chords that tend to give a bit of a headache when a beginner is looking to play guitar. They see this guy right here:
SCREW THIS:
–1–
–3–
–3–
–3–
–1–
–x–
And then there's a bunch of time wasted trying to squish your fingers around in such a way as to let that high F-note on the E string ring out. It's unnecessary, unless you're a bigot, of course, but that's beside the point.
If you or a guitar player you know has a serious problem with the voicing mocked above, check these out:
All three of these fulfill the requirements of being a Bb chord, while simultaneously NOT giving you carpal tunnel syndrome. The first finger barre is eliminated in all three cases. That's a great start. In the first voicing, you can barre the B, G, and D strings with either your 3rd or 4th finger. I prefer my 4th, cuz my pinky is a MONSTER.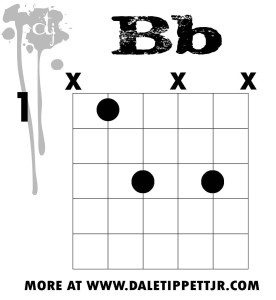 The 2nd and third voicings are very similar but have a pretty big difference between them. The 2nd one is great in a situation where you like having tight, simple sounds and all the other chords surrounding it have no open strings in their voicings. Super cool in F, Bb and Eb. Doesn't get in the way, and is pretty intuitive. Looks like an A7 chord bumped up a fret.
Have I mentioned that you should play all your cowboy chords with fingers 2, 3 and 4 yet? Doing this gets your hand prepared to pop a first finger down for a simulated barre, AND strengthens your puny finger muscles AND makes most new chord voicings much more grokkable.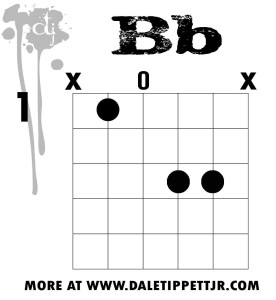 The third voicing is a pet of mine, but I don't use it too often. It's charm comes from the open D string ringing under your first finger arch. This voicing is great if you have a C chord near it. One of the things about Open cowboy chords is that they all have these great free ringing strings in them and They're so lush. Playing a choked out flat chord or F makes for a sudden shift in timbre that leaves you wanting more. Giving this Bb chord an open D in it gives it a feeling of unity with your surrounding cowboy chords. Also look at how I do F.
The first two voicings are super important for you to keep in your hip pocket though. These stand in for all major barre chords with the tonic on the A string. Learn that, and have a better time learning music instead of giving yourself cramps and a headache.